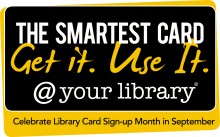 September is National Library Card Sign-Up Month!Library Card Sign-up Month is a time when the American Library Association (ALA) and libraries across the country remind parents that a library card is the most important school supply of all.
Here are 10 Things You Can Do with Your Library Card:
Take the kids to see a free movie.
Download an e-book.
Update your Facebook page.
Learn about job seeking resources.
Ask for a recommended reading list for your kids.
Learn about local candidates for office.
Pick up voter registration information.
Check out your favorite graphic novel.
Pick up a DVD.
Get free wireless access.
The Rice Lake Public Library has some fun events for adults coming up in September to celebrate.
PageTurners Book Club meets September 8 at 6 pm. We will discuss "The Sandalwood Tree" by Elle Newmark.
Volunteer Day of Service on September 10 at 10 am. Help us beautify the empty lot next to the library for everyone's enjoyment!
Saturday Cinema on September 17 at 7 pm; we'll be watching "The Conspirator".
Emmys Award Viewing Party on September 18 at 6 pm. Come join us for quizes, prizes,and  refreshments. Formal wear is encouraged.
Grown Up Games on September 29 at 6:15 pm. Poker will be played, and prizes awarded!
All library events are free and open to the public.
During the whole month of September, library card replacements are free.
Adults are invited to pay food for their fines during the week of September 18 – 24. Children can "read off" their fines throughout the month. (Some restrictions apply; see staff for more details.)