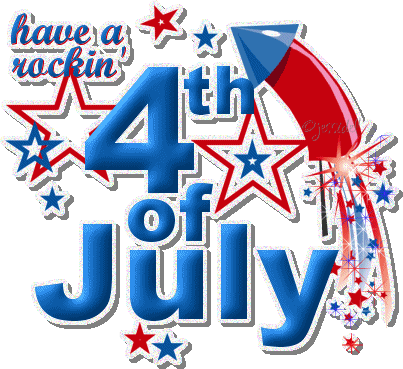 Happy Fourth of July!  Independence Day commemorates the adoption of the Declaration of Independence on July 4, 1776. It has been celebrated since 1777, and was officially made a paid federal holiday in 1938.
This holiday is celebrated by setting off fireworks, bonfires, and other patriotic displays, as well as gathering for parties, barbecues, and baseball games. It is also placed perfectly in the summer time, which allows most of us to enjoy warm weather and the outdoors. What about you? How are you planning to celebrate the Fourth of July?
Celebrate with Books & Movies!
All the President's Men (1976 ) – DVD
Dramatization of the early days of the Watergate investigation, as two young reporters for the Washington Post begin to realize its implications while pursuing the story.
Independence Day (1996) – DVD
Massive spaceships appear in Earth's skies and wonder turns to terror as the ships blast destructive beams of fire down on cities all over the planet. The world's only hope lies with a determined band of survivors.
Independence Day
by Richard Ford
Frank Bascombe, in the aftermath of his divorce and the ruin of his career, has entered an "Existence Period," selling real estate in Haddam, New Jersey, and mastering the high-wire act of normalcy. But over one Fourth of July weekend, Frank is called into sudden, bewildering engagement with life. Independence Day is a moving, peerlessly funny odyssey through America and through the layered consciousness of one of its most compelling literary incarnations, conducted by a novelist of astonishing empathy and perception.
Liberty : a Lake Wobegon Novel
by Garrison Keillor
A national holiday in Lake Wobegon is always gaudy and joyful. But when the major planner behind the Fourth of July parade and the twenty-four-year-old girl who dresses up as the Statue of Liberty develop a close "friendship," rumors begin to fly. What will happen is anybody's guess as CNN and the governor put in an appearance in Lake Wobegon–home to a good loving people who drive each other crazy.
The Music Man (1962) – DVD
"Professor" Harold Hill is a con man who comes to River City, IA, in the weeks just prior to the 1912 Fourth of July celebration. Persuading the town that the youth of River City is in great danger of being corrupted, Hill convinces them that they need to organization a boy's band, with himself as a leader. Hill promises to teach the kids how to make music by utilizing his revolutionary "Think System." There's only one problem: the professor doesn't know one note from another.
Sisters
by Danielle Steel
On one Fourth of July weekend, as they do every year, the four sisters come home to Connecticut for their family's annual gathering. But before the holiday is over, tragedy strikes and their world is utterly changed. Suddenly, four sisters who have been fervently pursuing success and their own lives on opposite sides of the world reunite to share one New York brownstone, to support each other and their father, and to pick up the pieces while one sister struggles to heal her shattered body and soul.